SAN FRANCISCO, May 03, 2023 — Treez, the leading enterprise commerce technology platform that streamlines retail operations within the cannabis industry, releases its annual 4/20 retail report examining hundreds of dispensary sales data across the highest volume shops in the largest cannabis markets in 13 states to determine the biggest wins, losses and product trends during the cannabis industry's biggest holiday. Unlike other point-of-sale (POS) providers, Treez's POS system delivered on 4/20 with zero outages reported, resulting in 99.99% of services in operation.
As expected Treez retail customers had an amazing 420 with a year-over-year aggregated sales increase of 32% in total revenue as well as, a 44% increase in customer count compared to 2022. Some of the highlights include a 252% increase in total revenue in the state of Missouri, a 195% increase in total revenue in Colorado, a 37% increase in total revenue in Michigan, and a 36% increase in total revenue in California. The data indicates that the cannabis market is continuing to grow and evolve, with new states legalizing adult-use and medical cannabis every year and the popularity of certain product types and payment methods shifting over time. In an effort to support retailers across the nation, Treez provides the following data.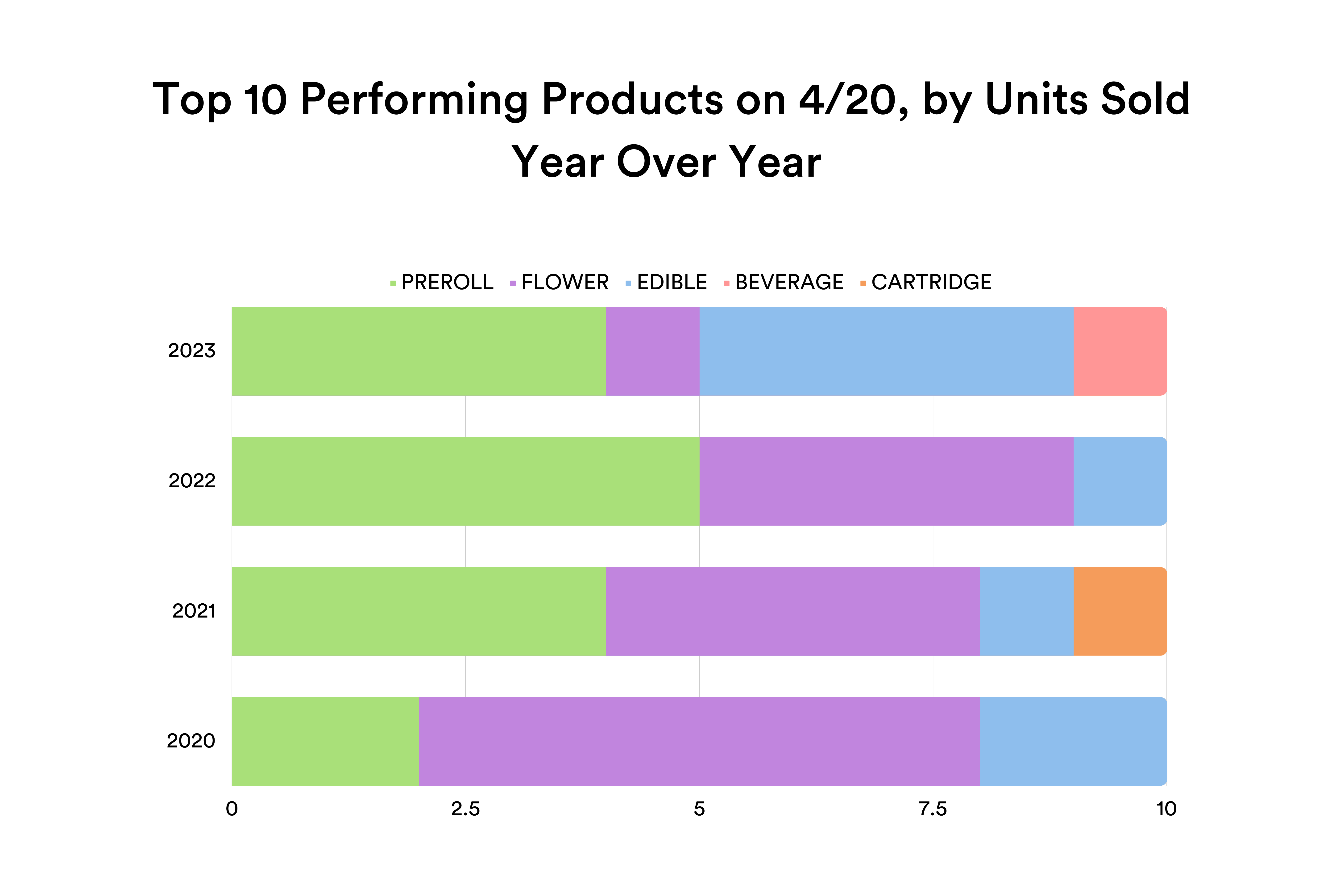 Among the top 10 performing products, pre-rolls and edibles reigned supreme with 4 of the top 10 each in terms of units sold. It makes sense when you consider that 4/20 day-of shopping is a celebratory activity, inviting casual consumers who may not smoke at all, or not enough to justify buying an eighth or more of flower. Also, pre-rolls are affordable and often part of deep discounts and BOGO deals, on 4/20. Although retailers sold a larger number of pre-rolls, flower remained the top revenue-generating product on 4/20/2023.
Edibles and specifically gummies continue to dominate the edible category with gummies representing the top 10 selling products by units sold and the top 10 revenue-generating products. Beverages are rising in popularity with 100 MG beverages breaking into the top 10 for most units sold for the first time. Could beverages speak to the novelty seeking nature of the 4/20 holiday the way a cookie did last year? Perhaps beverages are finally finding their way into casual cannabis consumers' minds.
Average Basket Size and Average Order Value
This year, consumers brought more products home than ever before, with the average number of items per order climbing to 5.46 items. That's up from last year's Average Basket Size (ABS) of 4.96 and surpasses the previous highest ABS seen on 4/20 of 5.26 items.
The average order value for 2023 sat about $4 lower than last year's average, at $85.61. Our data shows that consumers are buying just as much or more products but may be gravitating towards lower-priced products or looking for deals and discounts even more than in previous years. Retailers should be cautious about a race to the bottom when it comes to discounting, as there will always be someone willing to cut more into their profits than you are.
Payments
Cash, while still the top payment type across all markets, made up a smaller fraction of the entire payments pie this year. About two-thirds of transactions processed on Treez point of sale were done in cash. Last year that number was 70%. On the other hand, we saw a marked increase in secure debit transactions, which made up 21% of payments used on 4/20 this year, up from 15% of payments in 2022.
"This 420 was a huge success for retailers across our 13 markets. We're ecstatic that we were able to provide a stable platform for retailers to do what they do best. Their performance matched or exceeded our expectations in many cases with retailers experiencing a year-over-year aggregate sales increase of 32%, exceeding our expectations, which were closer to 10-15%. We're excited to see an increase in cashless payments and a reduction in reliance on cash transactions. In general, we were extremely pleased with the 420 holiday and even prouder to see our customers thriving and growing with Treez as their choice retail software provider," said John Yang, CEO of Treez.
About Treez
Treez is the leading enterprise cloud commerce platform providing point of sale software, retail analytics, cashless payments and integrated partner solutions to the highest volume retail operators in the biggest state markets in the cannabis industry. Treez's innovative technology and insights help retailers streamline their growth, increase their ROI, and drive efficiency in their operations.
The extensible open API platform provides smooth integration into a variety of best-of-breed solutions across ecommerce, delivery, customer relationship management, marketing and loyalty, accounting, ERP and more. Layered on top is a dedicated client success team and 24/7 customer support, giving retailers everything they need to grow their business.
For more information, visit https://www.treez.io/